Collecting Dust (& Revenue) for
Miele
Driving a colossal 275% revenue increase by leveraging the potential of keywords and individual product feeds.

Miele is a German manufacturer of high-end domestic appliances and commercial equipment, operating in 97 countries around the world. Founded in 1899 by Carl Miele and Reinhard Zinkann, the company has always been an independent family-owned and run business.
Miele UK's operations are focused around the Miele Experience Centres in London and Oxfordshire, where their outstanding product ranges are creatively displayed to reinforce a brand image characterised by quality, style, innovation and durability.
We helped Miele to optimise their product feed and ultimately, drive a 30-day revenue increase of 275%, and a sales increase of 400% across their 'vacuum' product area.
Upon receiving extra budget, we looked at how we could best maximise budget efficiency, which led to an exploration of how Performance Max campaigns could be edited and explored to better drive revenue in desired areas, and inspire the algorithm for more visibility across individual products.
The results saw huge uplifts in revenue, ROI, and sales, along with a significant decrease in cost-of-sale for the client. Following the success of the campaign, the client expressed their interest in continuing to put budget into testing, and we also began working on the Miele Ireland account, further strengthening our relationship with the client.
Read on for the full Miele PPC Case Study.
Objectives
What Did The Client Want?
Our client, upon providing extra budget for the year, wanted to drive budget efficiency to both assist with bigger picture growth, and address specific product areas that they wanted to grow.
In addition to our client's growth goals, we wanted to gain better control over newly implemented Performance Max campaigns – which have been met with some scepticism due to a lack of control – within the account.
Prior to the campaign, Miele had existing objectives in place of maintaining a desired ROI, which was increased at the beginning of 2023 due to continued success within the account.
Upon finding out about our client's plans to provide extra budget for PPC in Q4 2022, we looked into how we could drive maximum budget efficiency, whilst ensuring that ROI remained on target, which led us to the idea of experimenting with some of the newly implemented Performance Max campaigns within the account.
Unlike search campaigns, Performance Max doesn't use keyword lists to target users, and rather, is informed by everything in the product feed, which we manage through Shoptimised – a tool that makes it much easier to edit and optimise client's feeds. This got us thinking about how we could enhance the information within the product feeds to inform the algorithm and drive better performing campaigns.
Implementation
What Did We Do?
We decided to conduct an A/B test across Miele's 'vacuum' products. This specific product area was chosen as the products are reasonably priced, and it was an area that our client wanted to grow. The product area would be segmented into two groups of products with a fair split of current price, performance, and models. The first group was to have keywords added into the 'product type' section of the shopping, whilst the second group would remain without.


We expected that the first group, as a result of the keywords within the shopping feed sending advanced, more informed signals to the Google Shopping algorithm, would perform better than the second group.
We researched and selected keywords using a combination of competitor research, market knowledge, and Google Keyword Planner to find ensure that the information added into our client's product feed would highlight product USPs whilst also tapping into the search behaviour of our target audience. Using keywords as product types meant that individual products could be listed with more unique features, and more easily recognised by the algorithm.
Google Keyword Planner helped us to select the keywords with the highest search volumes, and these were added into the product feed through the Shoptimised platform along with the brand keyword.
For more information on the testing we did within the account, read our blog here.
The 30-day comparison of results before and after implementing the additional product types highlighted:
88% ROI increase
275% revenue increase
400% sales increase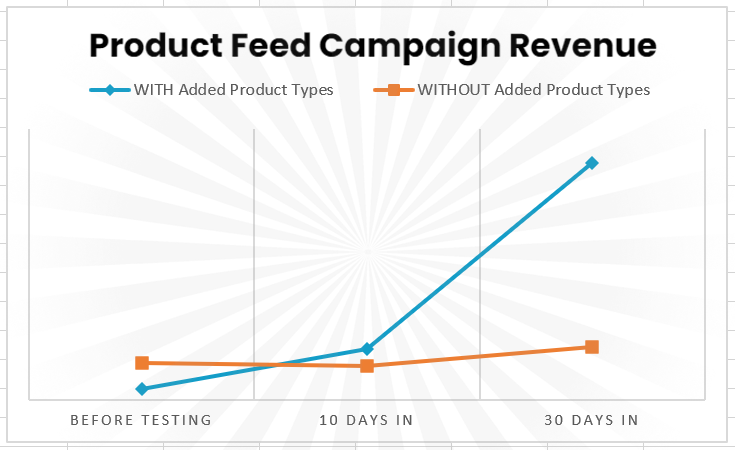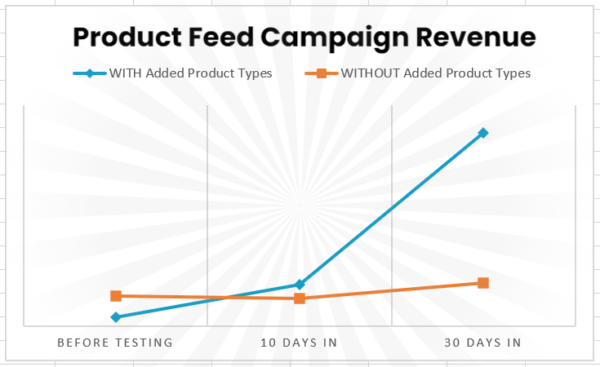 By focusing on driving efficiency and driving as much sales growth as possible in this product area, we are now able to use budget to focus on Miele's aim to grow 'generic' brand presence and market share, along with new customer acquisition.
Following the success of the test, we rolled out product feed updates across all Performance Max shopping campaigns, and as a result, the 'vacuum' product area in Q4 2022 saw:
43% YOY ROI increase
81% YOY revenue increase
9% YOY sales growth
We also saw fantastic results were across the entire brand, with product feed updates helping with a total:
49% YOY revenue increase
6% YOY ROI increase
33% YOY sales growth
Follow-Up Testing
The success of the product feed campaign meant that both ourselves, and our client, were keen on continuing to put budget into testing to discover more ways to improve the account. Recently, we implemented a price-based campaign in another product area, where products were segmented depending on price.
The aim of the test was to see if we could drive more revenue at a more efficient ROI by segmenting the products.
Over 30 days, compared to the previous period, we saw the following results within this particular product area as a result of segmentation by pricing:
407% revenue increase
510% sales increase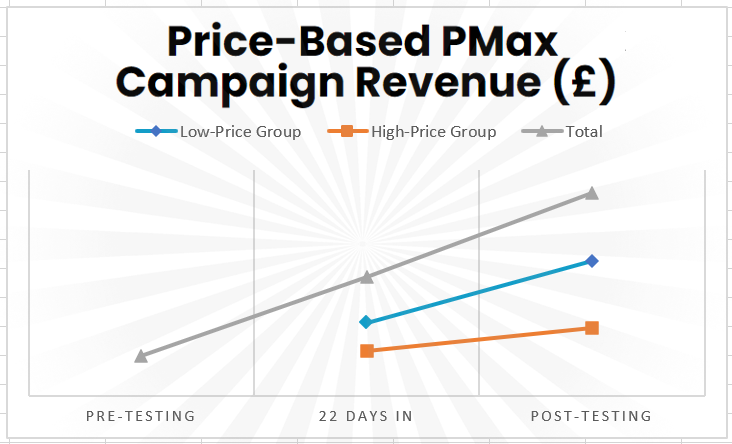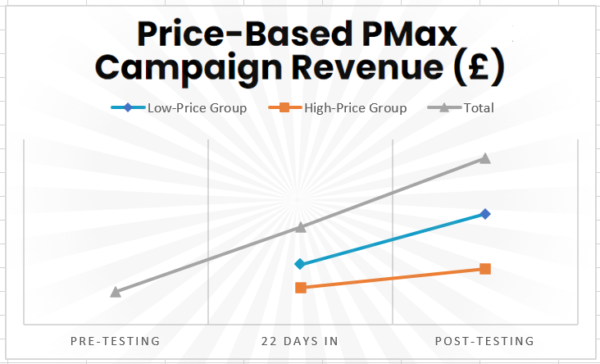 Similarly to the product feed test, we're now looking at rolling out pricing segmentation across other campaigns within the account to continue to drive growth for our client.
The Human Touch
Our Personal Approach
Since beginning work with Miele in 2016, we've shared our expertise and knowledge to guide them in way that has helped to cultivate award-winning campaigns, leading to an extremely positive and successful professional relationship.
During this time, we've become an extension of our clients' team, taking the time to understand and appreciate the needs of the business, and using this knowledge to help facilitate growth towards our client's long-term targets.
We aim to place both ourselves and our clients at the forefront of innovation, testing new and advanced techniques that allow us a greater insight into how we can drive more success, and ultimately, more money, for our clients.
Important to us is the trust that our clients have in us, as this is not only what allows us to drive better results for our clients, but also gives us the opportunity to better our own knowledge and increase our expertise through trial and error. We constantly push excellence within our client's account, and avoid becoming complacent with good results, and rather, focus on making them great.
Our positive and constantly flourishing relationship with our client has also led to growth in other areas of the business, and as an agency, we recently acquired the Miele Ireland account as a result of our continued success together.
Due to the success of the tests, we are now including high level strategy testing as a continuous part of managing the Miele account and will be launching new tests every month or so to ensure that we are in the best place strategically and always ensuring Miele are ahead of the competition, whilst we continue to help them grow their market share.