Circus @ Leeds Business Week

Being a specialist agency Circus PPC have been asked to present at Leeds Business Week to talk about one of our many specialist areas. With the worlds focus changing to mobile devices and the recent shifts in search behaviours we have chosen this to be our topic.
Spoiler Alert: The below chart from Consumer Barometer shows how the % of mobile users are increasing and desktop users are on the decline.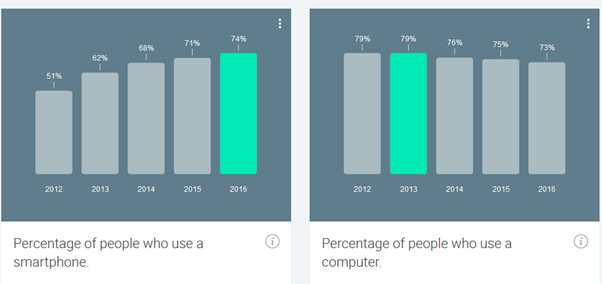 We have released articles on Mobile recently which you may have ready already:
http://circusppc.com/should-you-target-mobile-devices-with-ppc-ads/
http://circusppc.com/adwords-mobile-1st-approach/
And we will be running through this with examples that will help with your mobile strategies.
As mentioned in the article on the Leeds Business Week website, we will not only be talking from a PPC perspective but also on mobile in general and why this needs to be a big focus in your marketing plans. We will discuss the 25 principles of a mobile site design and we will finish with measurement.
To register please visit: http://leedsbizweek.com/events/view/98
Our talk will be on Tuesday the 18th of October at 3pm.
Below is a quote from the Yorkshire Mafia about the event:
"Leeds Business Week is not just a celebration of business; it is about bringing people together to make things happen. There is no point in standing in a room to collect business cards; we need to learn, to share and to create meaningful relationships that will benefit us all as a community.
There is a huge line up of events, and once again more than 100 businesses have shown their support. We know we have the talent, we have the credibility and we have the potential, it's time to put all of those things into practice and give Leeds its rightful place on the map as a centre for doing business."
Geoff Shepherd, Chairman, The Yorkshire Mafia
If you cannot make it to the talk but would like to discuss your Mobile strategy, feel free to get in touch with the Circus team.
Written by Ahmed Chopdat PPC Director at Circus PPC Agency