PPC & The World Cup: Russia 2018

The Global Reach
The World Cup is the most-watched global event of all, and attracts a viewership that by some estimates reach nearly half the world's population.  The 2014 World Cup broke several TV audience records in international markets, including the United States and Germany – the final between Argentina and eventual champions Germany attracted a worldwide audience of 695 million.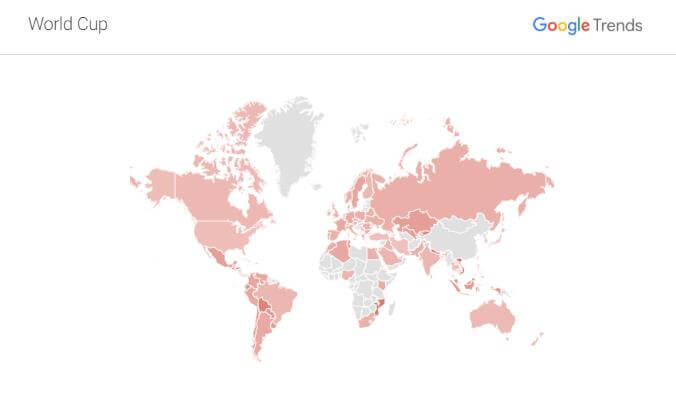 In terms of Search, internet traffic increases around this period, but it also becomes a little more erratic around the World Cup fixtures. EE report that they have seen people put down their devices during the action, but then return to them at half-time and after the game.

Interest Builds & Builds
Interest in the tournament starts to gather momentum in early June, before dominating search traffic throughout the remainder of June and into July.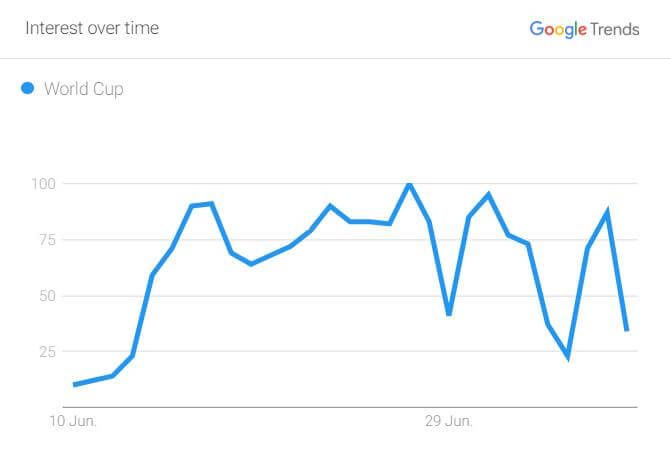 Unlike some other major events, the World Cup keeps people hooked and coming back for more.  The more people watch the World Cup, the more they become emotionally invested in it. Can the golden-generation of Belgium go all the way? Can France win their first tournament since 1998? Or can England bring football home again?!
In Numbers:  The Teams
Search traffic is also not dominated by the larger teams within the competition and is distributed reasonably evenly between all the nations that have entered. Sure, Germany may have driven 8% of search traffic within the group stage – but one good result ensured Mexico attracted 5% of search traffic within this period.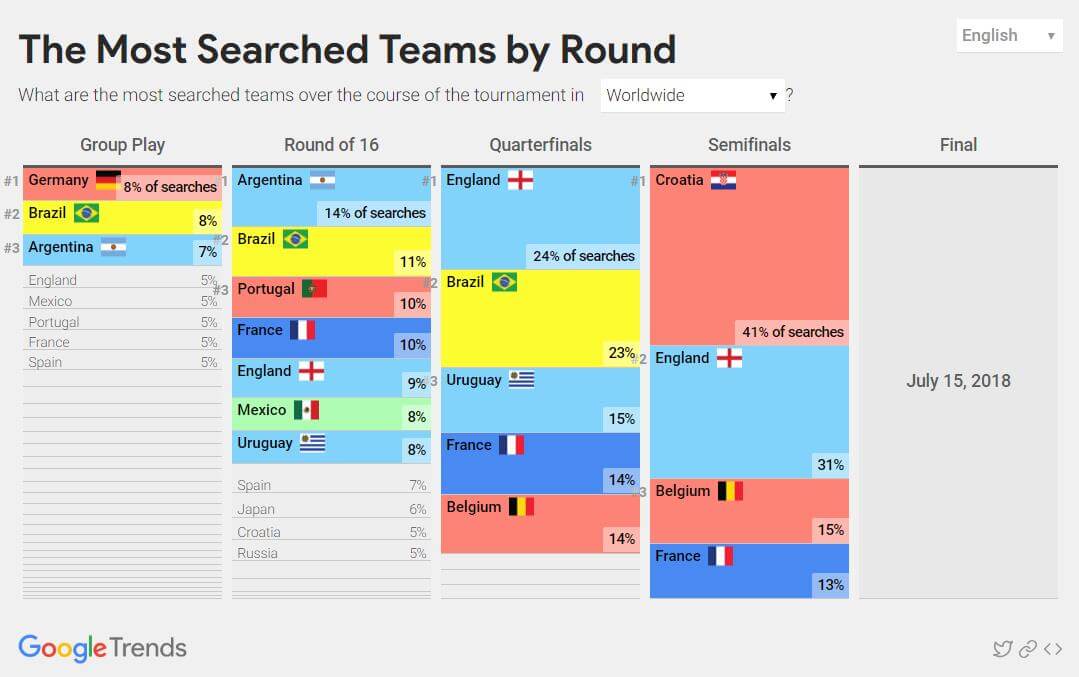 Interestingly, as the tournament nears the closing stages, it's actually the smaller nation in Croatia that has driven the majority of searches, as users research the country for more detail. There is less search traffic around France, who are the favourites for the competition by this stage.
In Numbers:  The Players
It's the players who are the real stars, and with three goals in the tournament and a man of the match performance against Argentina, Kylian Mbappé has been the most searched-for superstar. The 19-year-old wonderkid has nearly twice as many users clambering to find out more about the PSG striker than any other player in this year's tournament.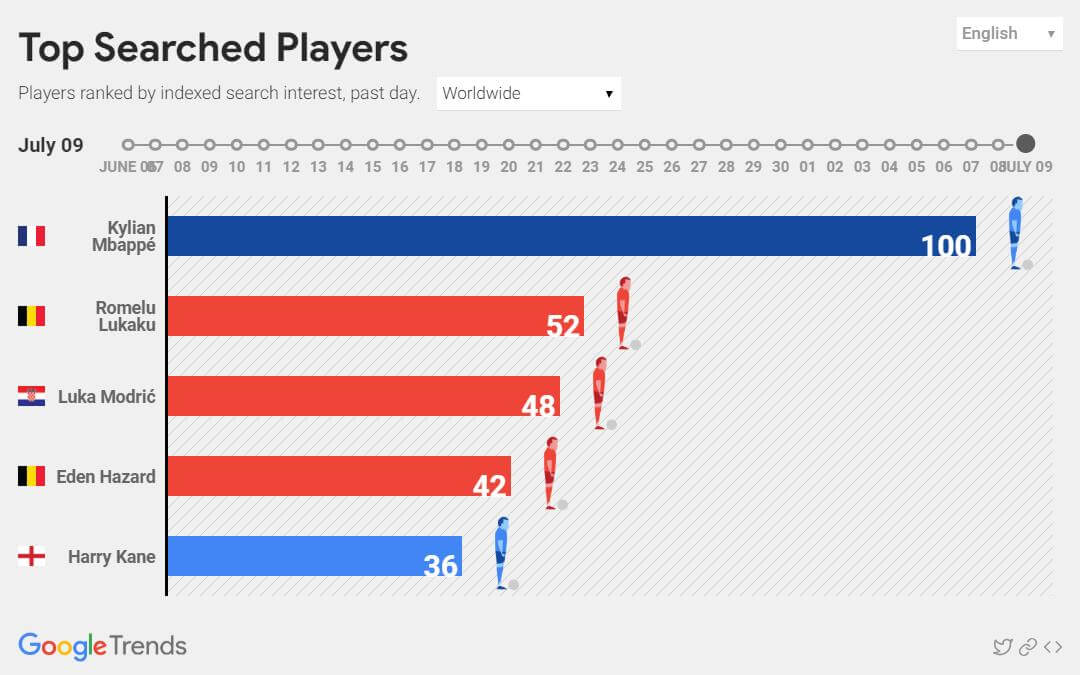 Other stars that have attracted interest during this tournament include the Belgian pair of Romelu Lukaku and Eden Hazard, Luka Modric the Croatian Midfielder and our own Harry Kane – the frontrunner for the Golden Boot award, with six goals to his name.
Back in England:  It's Coming Home
Closer to home, the country has been enjoying the longest heat-wave since 1976 – and coupled with the national team's performances within the tournament – this has made for a party-like atmosphere throughout the nation.
Almost 20 million people tuned in on their TV to see England reach the World Cup semi-finals for the first time since 1990. The Three Lions' 2-0 win against Sweden attracted over 15m viewers over the course of the match. Earlier in the tournament, an average of 16.5m tuned in for the team's triumph against Colombia.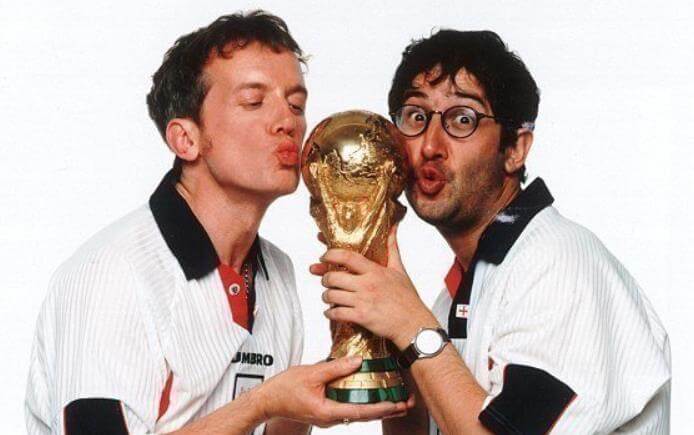 But it's not only the TV set to which users turn to for information and entertainment around the World Cup. Users are comfortable accessing several devices at any one time, such as watching the game on TV, while surfing the net on their smartphone looking for information about the game and other related content.
Users are also searching for products and services – such as a location to watch the game, a taxi home from the pub, or a restaurant to book for later in the evening – and it's at these moments that as an advertiser we are presented with the opportunity to connect with our audience.
Search traffic is increased during the World Cup and it's important to us – just as to any team manager entering the tournament – that we have the required tactics to succeed and beat the competition. It's vital that we understand how best to take advantage of an increase in traffic, while still maintaining and returning our desired level of performance.
Here at Circus, we've seen one of our retail client's revenue increase 67% month-on-month during June and July, while maintaining a similar return on ad spend and cost-per-acquisition to that of May. The client has benefited from the warm weather, the World Cup and the increased visibility this event generates by tailoring their PPC strategy to suit.
It's important to understand your audience – what they require and when they require it – to ensure that you are there at the right moment to connect with them, when they are searching for your products, services or offering.
As an advertiser, how can we take advantage of this landscape to deliver more?
Bidding & Budget Management
The World Cup brings out the heavyweight advertisers who have multi-million pound budgets to deploy during this period. As a result, it is typical to see an increase in the average CPC of some verticals. Bidding and budget management during this period are imperative.
Bid only what delivers the required performance for your business and don't get drawn into a bidding war. Sure, it's great to hold top spot for certain key search terms, especially around brand, but consider the overall effect this increased CPC is having on your return on ad spend.
Ensure you have control over your daily budget, and that this aligns with your overall advertising budget for this period. With an increase in average CPC, it is very easy to drive additional spend in any given day. Ensure that you are managing budget and increasing only when return on ad spend demands, rather than the market.
Ad Scheduling
You may want to consider implementing ad scheduling around certain key fixtures. For instance, you may feel that with your potential customer base hooked to their TV set for 90 minutes, your advertising budget may be better used at a different time of the week.
Similarly, you may decide that it would make sense to up-weight your CPC bids around the World Cup fixtures. Perhaps a restaurant would want increased visibility around the end of a fixture, so may decide to be more aggressive when the final whistle blows. Understand your audience and set your bidding strategy accordingly.
Ad Copy
Consider incorporating World Cup themed ad copy into your account. Users like to see relevant copy and attention-grabbing ad content is a great way of increasing your overall CTR and account health. Try split-testing some fun World Cup themed ad copy alongside your regular ad copy to assess performance.
Google Shopping
If you are a retailer, consider which products you stock and how demand may increase or decrease during this time. For instance, it may be a great time to increase your aggression around BBQ equipment in the run up to a match day – but you may be less inclined to attempt to push men's clothing when your core audience's attention may be elsewhere.
Ad Extensions
Ad Extensions are a great way of providing additional information about your business or product offering. Consider call out extensions or sitelinks directing users to areas of your website that contain "World Cup" themed products.
Call Extensions
Another thing to consider is when you – or your business – will be available for contact.  A sole trader, who uses PPC to drive telephone enquiries, may find it useful to pause any call extensions they have active during the hours of the game.
Negative Keywords
A review of your Search Term Reports would be a good idea during this time. Are there any new searches appearing, related to the World Cup? For instance, a retailer selling sports equipment could be picking up irrelevant traffic around national football kits, football clips or other football-related queries.
Expand Your Reach
If you have considered increasing your PPC presence to other platforms, then this could be the ideal time to do just that. Bing Ads and Facebook are both a great way of increasing your visibility across multiple platforms and could possibly help cushion some of the increased CPC on Google AdWords.
Bing Ads reported that World Cup 2014 generated twice as many clicks as Euro 2016, despite a growth on this platform. The World Cup is a great time to start exploring the opportunities that this platform could present for your business.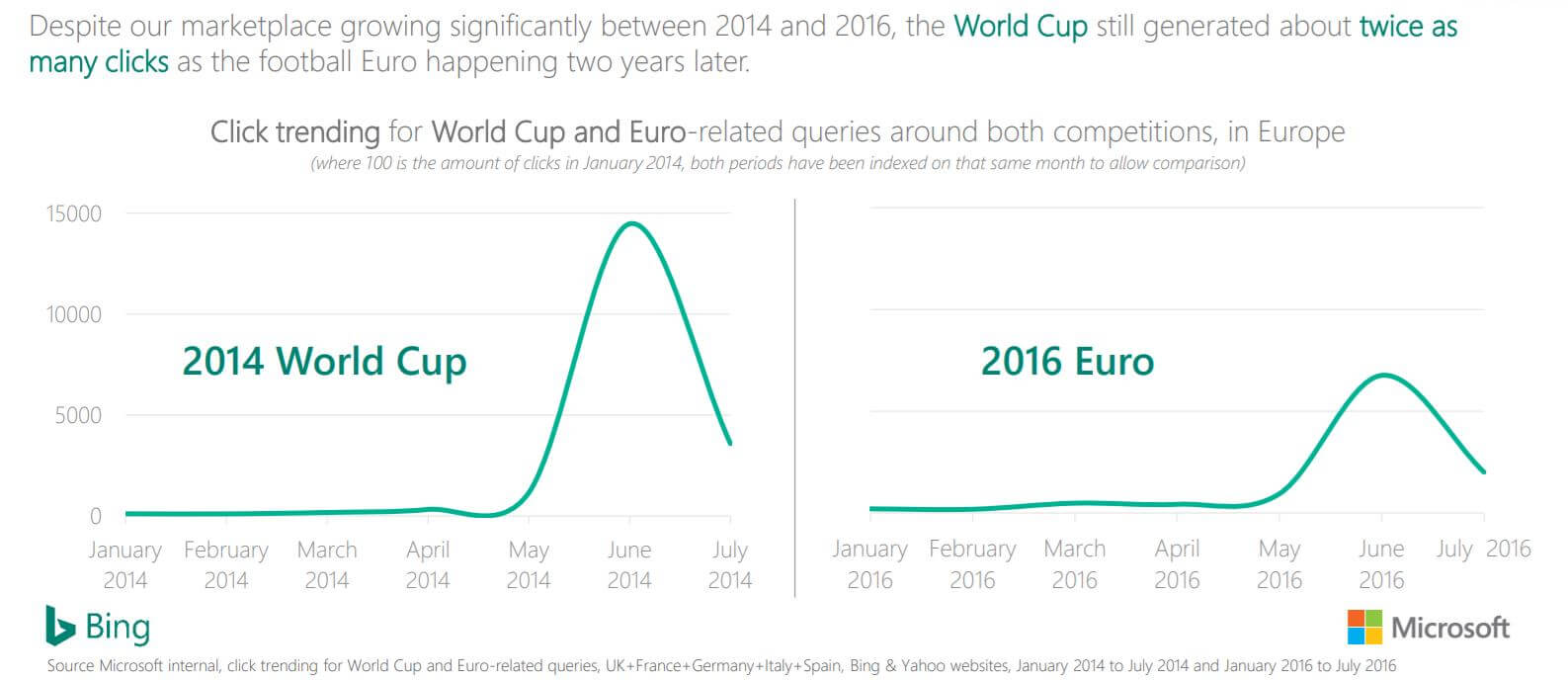 Video Advertising
It's not only on TV where users are consuming their fix of the World Cup action. Users are switching to mobile and streaming website such as YouTube to view highlights of the games and find out more about their favourite stars.
Did you know?  Football has among the highest engagement rates across all categories on YouTube – when users interact with football content on YouTube they are more likely to engage with this content and your advertiser content too.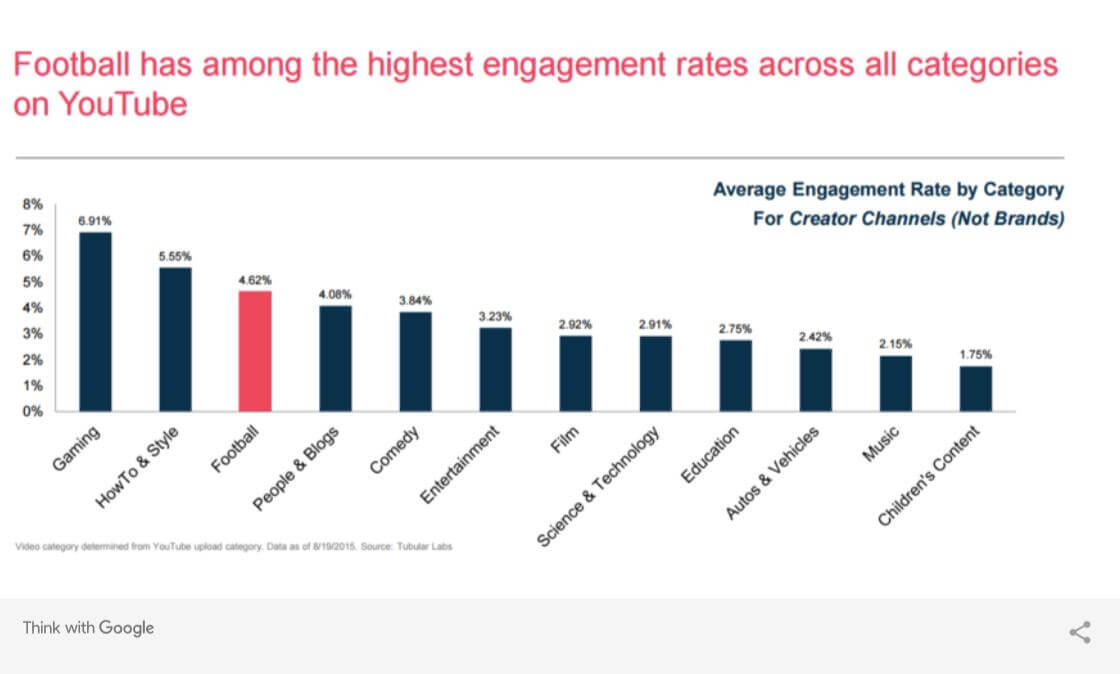 Consider placing your video ads alongside relevant content on YouTube, or across the Google Display Network. If you have football-themed video ads, this could work really well. Take advantage of the increase in football-related searches by piggy-backing your PPC activity and targeting this content.
Summary
In summary, it's important to embrace the PPC opportunities that an event like the World Cup can present. It is worthwhile taking the time to plan and execute a strategy to ensure that you maximise your online visibility when your audience is statistically likely to convert.
It is vital to understand your audience and consider their browsing habits during the tournament so that you can connect when they are searching for products or services like yours.
Consider your advertising budget for the period and ensure that your bidding strategy is one that works for you and your business. Ensure that you are bidding for return on investment at all times.
PPC optimisation during this period is imperative. With surges in traffic around key fixtures, ensure that your strategy is aligned, and that you are deploying budget when it is most effective.
Consider incorporating World Cup themed ad copy into your account and updating any relevant ad extensions and sitelinks to direct traffic to World Cup offers or product groups.
Increase or decrease bidding aggression around products on Google  Shopping, depending on how popular you would consider them to be at this time of year.
Try experimenting with new ad formats or platforms during this time. Expanding your visibility to other ad platform such as Bing Ads, YouTube or Facebook could help drive additional conversions, while offering the chance of a reduced cost in some cases.
Finally, take time to monitor closely and report on your PPC activity during this period. PPC traffic can be erratic over the World Cup, and it's important to be ready to react to any changes you see in the market place.
We hope that this advice has given you some food for thought around your own winning World Cup PPC strategy.
Did you know?  We often find that the optimisation actions carried out on the back of a free Circus PPC audit can not only cut waste spend substantially, but also actually help increase sales and revenue by placing your advert in front of a more receptive audience. Get in touch with us to find out more.
Here at Circus, we love to discuss client's business objectives and we enjoy working with them to help implement a winning strategy for their business. If you would like a helping hand with setting up Google AdWords, or any other element of PPC advertising, then please contact us for a free, no obligation PPC review and consultation with one of our PPC Experts.