Is Your PPC Account Ready for Christmas 2017?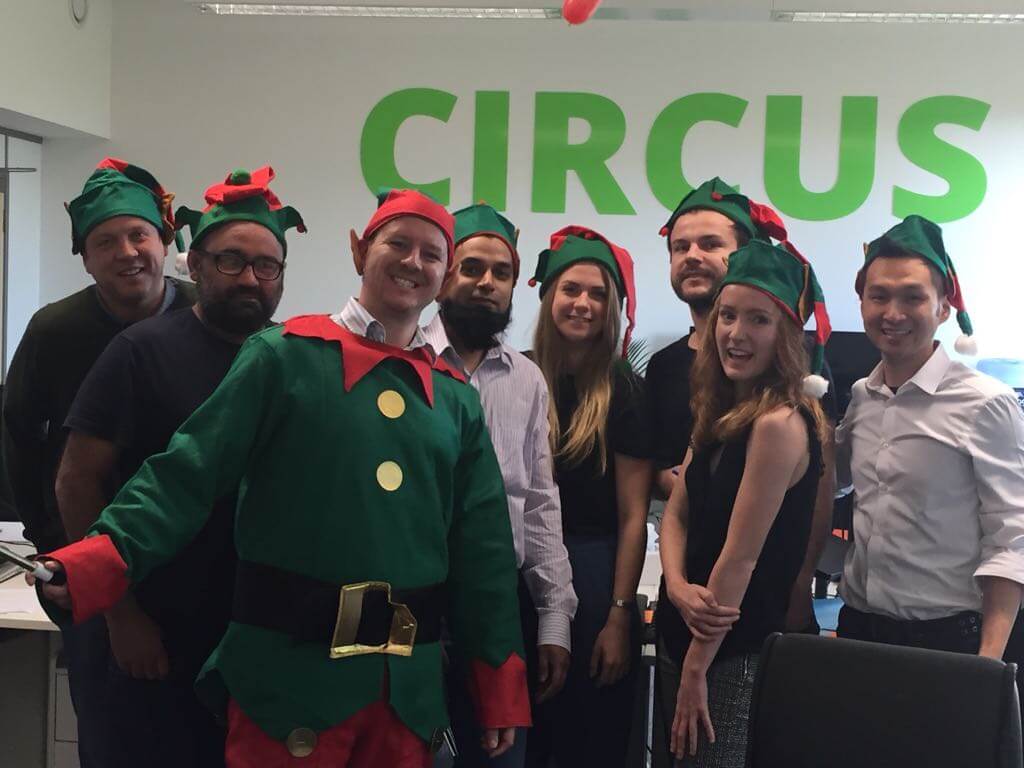 Christmas, every year we all know it is coming and we all know exactly when it is yet many of us leave our Christmas shopping till the last minute. The question is, however, are you (or your agency) doing the same with your Christmas PPC Strategy? (I really hope not)
Is Your Christmas PPC Strategy ready?
The purpose of this blog isn't to cover all angles of what you need to prepare but just some ideas to help get you started. I will go into some detail in the retail sector below and touch on a few other sectors as well.
Retail Sector
Statistics and historical data show that you should have already started to prepare your campaigns for Christmas if you are in the retail sector.
What retailers should be thinking about:
What should you be promoting pre-Christmas?
What will sell better post-Christmas?
What are the competitors doing?
When is the search volume going to pick up for your different products/categories?
Are you having a Black Friday/Cyber Monday/Boxing Day/New Year's Day sale?

When will this go live?
When do we need to push the PPC for this?
Do we need to make sure we capture the traffic on Christmas Day? (Statistics and past performance show that a lot of people start to browse the online sales on Christmas Day)

What are the big trends in the market at the moment?
There are many other questions but above are a few I would like to help you answer.
The promotions you have will be individual to you so this is something you will need to decide internally however it is important to keep an eye on your competition. You do not want to have a 10% sale on an item which all of your competitors are holding a 50% sale on.
Look at Google trends. This will answer the question of what the users are searching for.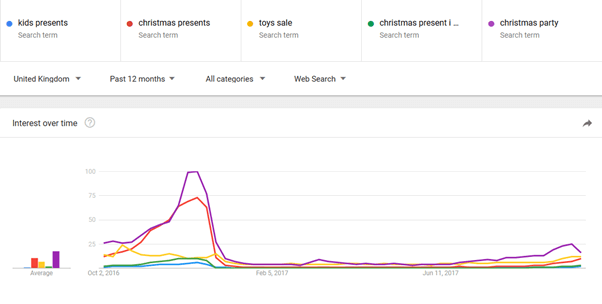 Have you budgeted correctly for the pre and post-Christmas period? We have seen some retailers double their budget pre-Christmas but more than quadruple it in January (along with the revenue). Have you budgeted correctly for this to happen? You will also need to budget for the Black Friday/Cyber Monday weekend. I have seen the weekend revenue alone hit almost the same figures as a whole month's revenue in the same year.
Whilst it might be very early to 100% define exactly what offer you will be running during the pre or post-Christmas period, you will need to have a clear plan of when the offer will be live, when the ads will be ready to be pushed live and when they actually need to be pushed live along with the same offer on the website. It is important to match the messages between the website and the ad to ensure the user has a smooth journey through the whole buying process.
What else do you need to think about?
Are you remarketing to the correct audiences?
Are you using RLSA effectively
Are you looking at your attribution data?
You will also want to read the top 10 tips here: http://circusppc.com/top-10-tips-pay-per-click-strategy-retail/. These are things that should be in place all the time and not just for the Christmas period.
Travel Sector
The Travel sector and how this is impacted is something we would like to cover in a separate blog as it needs a more in-depth discussion, however, by applying some of the above principles you can see the sector does also pick up for certain types of travel in the winter months.
A winter holidays client would want to focus their budget during these months and look to pull back in the summer months. However, holiday deals as a whole also picks up quite a bit in January so this is something all travel companies need to be ready for and budget for.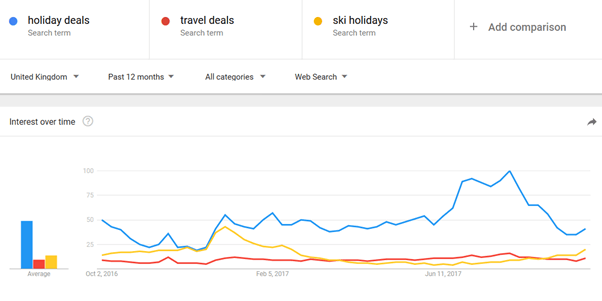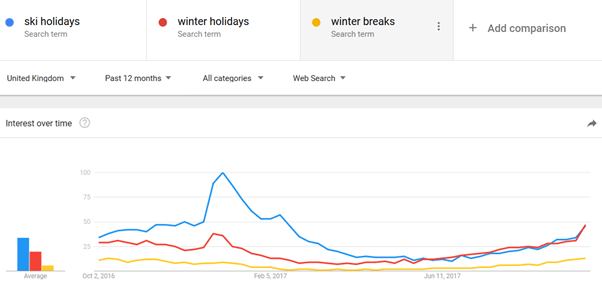 Finance Sector
Not every sector will pick up pre-Christmas. Some actually see a drop off pre-Christmas. Finance is one of these sectors (although not for all sub sectors within Finance).
Post-Christmas, however, picks up intensely. Moreover, we usually see the conversion rates picking up during this time period. Therefore, you do need to budget for this period.
Below is an example of some of the main terms from the finance sector.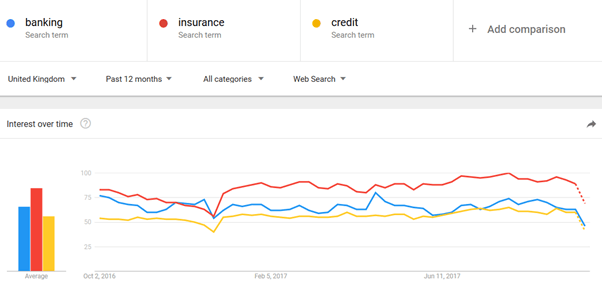 There are always 2 ways to prepare for the poorer search volume months.
The first one would be to bid more to try and capture all the traffic you can. The second one would be to hold off and save your budget for the stronger months.
Both can be used by different types of companies but you need to decide which one is right for you. Sometimes you may want to look to use a combination to get the most out of your account. It all depends on your conversion rates and ROI.
To help personalise your preparation for the pre and post-Christmas period please do get in touch.
Written by Ahmed Chopdat PPC Director at Circus PPC Agency