What does being a Google Premier Partner mean?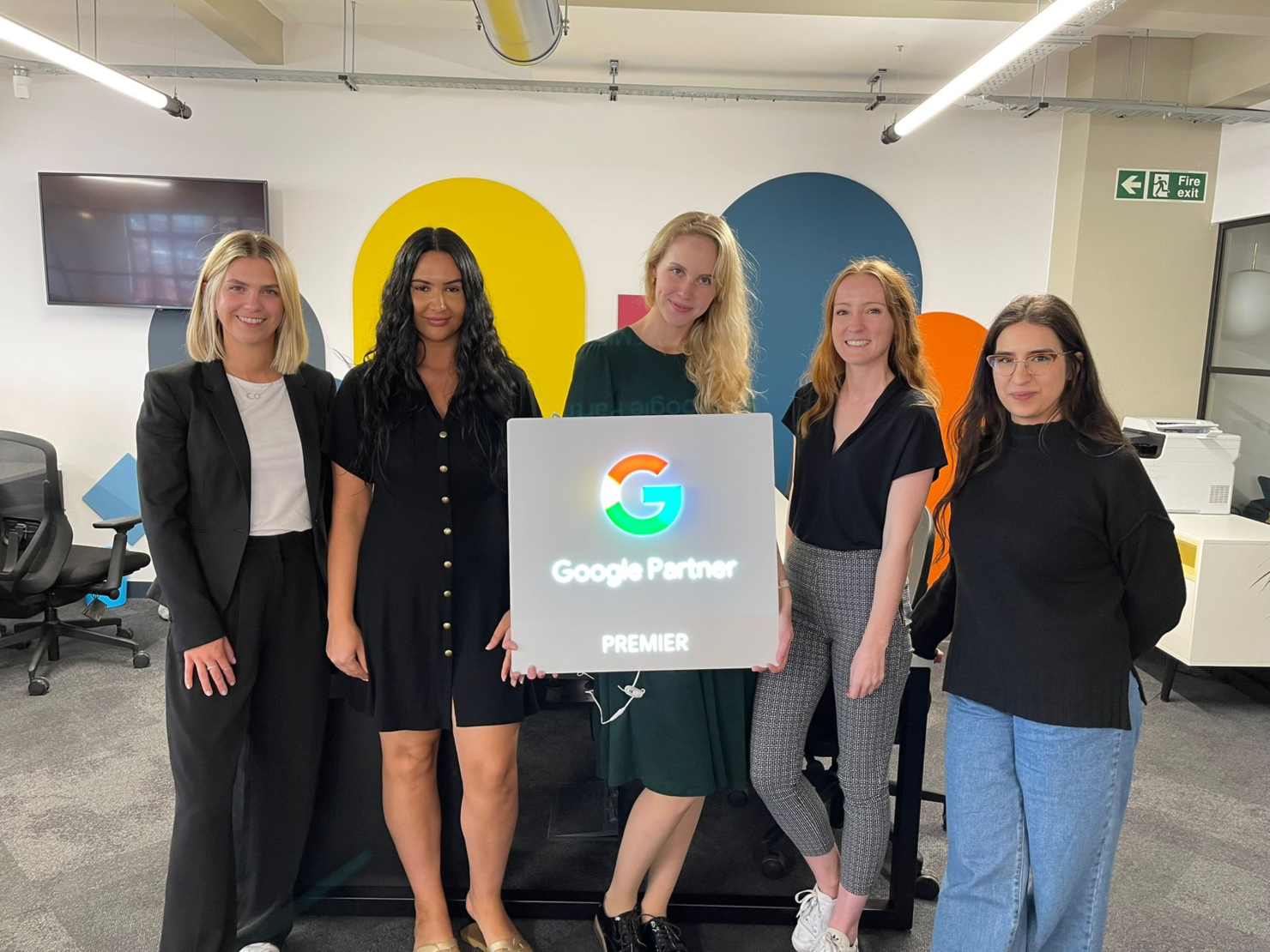 This year, the criteria for qualification as a Google Premier Partner changed, looking more closely at client growth and retention, product diversification, and annual ad spend.
We're extremely proud and excited to have maintained our Google Premier Partner status for 2022, which puts us in the top 3% of UK agencies, and allows us access to a number of benefits that help us to improve and enhance the services we provide to our clients.
So, what are the benefits we have access to as a Google Premier Partner?
Google Premier Partner Awards
The prestigious Google Premier Partner Awards allows us, as an agency, to showcase the outstanding work we've been doing for our clients, and includes categories such as lead generation, brand awareness, online sales, workplace excellence, international growth, and app growth.
In addition to the ability to highlight the amazing work we've been doing, we're able to receive recognition for the way in which we've used Google Ads products to drive success within our client accounts, and position ourselves as expertise and thought leaders in PPC.
In fact, today is the deadline for this year's awards, and we're excited to have entered three categories – one of which has been newly introduced this year.
Dedicated Account Management
Having been Premier Partners for, well, longer than we can remember, and having maintained that status this year despite changes to qualification criteria, we've built a close relationship with the team at Google, who we work with on a daily basis to ensure that we utilise Google products to the best of our ability.
Our account management team at Google provide us with the insight and support we need to navigate new products, best practices, and general updates, ensuring that we're driving success and results for our clients.
Chloe Tetmajeris, PPC Analyst at Circus, talked about how having access to account management helps the team to navigate the Google landscape:
"Being a premier partner means that we get to have very close contact with our google reps/account managers. we're given exclusive training, 1-2-1 help from the Google Tag Team, and insight into upcoming products which has been, and will continue to be, especially helpful when navigating the new Google landscape (Performance Max/Enhanced Conversions/Conversion Tracking/Consent Mode/GA4 pathways) in the upcoming months."
Data Insights and Support
We're experts in our own right, however, obtaining access to insights and support provided by Google that we can use to improve our clients' account performance is extremely useful and enhances our outstanding services even further. Having access to data and being able to speak with the team at Google about previous successes from specific products isn't only beneficial for us, but also for our clients – giving them the confidence that they're working with an agency that knows what they're doing and how to drive success.
Will Cheng, Operations Director at Circus, said of the support:
"Being a Google Premier Partner doesn't mean that we do everything Google tells us to do. Rather it gives us another sounding board on how to implement new ideas & new features in their ever-changing landscape. We still need to think critically about what is best for our clients & having the inside track from Google helps us assess this."
Ultimately, our status as Google Premier Partners, and our ever-growing relationship with the team at Google, is a testament to the work we've put into becoming experts in PPC, and means that we can use discussed benefits and knowledge to better develop campaigns and drive results for our clients.