Get Ready For The January Sales

Get Ready For The January Sales
Whilst in the US Black Friday is the biggest sales event of the year, Christmas & January sales continue to come out on top in the UK. January 2019 drove, on average, 4.5% more consumer spending year on year across all UK retailers – the highest year on year growth across retail sectors since December 2016. Despite this, surveys ran by Barclaycard indicated that over half of UK adults believe that January sales are less important than they were a few years ago. This could be because more retailers are offering discount periods throughout the year, and so holding off until January isn't as important to consumers as it once was.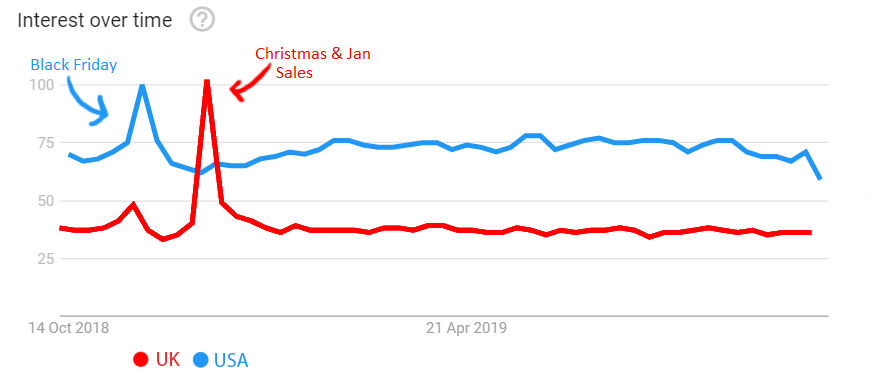 Trend data comparing US & UK interest in 'sales' keywords over the past year
When taking these statistics into account, it becomes more and more obvious that competition is going to be high during this time. Planning ahead means that your business can monopolise on all this increased intent, and, by tailoring your Search, Display and Shopping campaigns to your marketing goals early, you can see the maximum returns on your investment.
Top Tips For January Success
Review Last Year's Stats
Even if you didn't run any specific January Sales focussed activity or promos last year, have a look to see how you performed. Perhaps stats dropped as you weren't running offers, or maybe you were able to ride the January Sales wave without this and saw an increase in traffic and conversions anyway. Either way, this is something you can learn from for this year's activity.
When did traffic begin to pick up from? Getting ahead of the curve here can mean that you're in front of customers at the very first touch point, which can influence consideration.

Sales are beginning earlier and earlier, with many retailers deciding to start promotions as early as Christmas Day.
With Mobile traffic growing more and more year on year (predicted to 'increase seven-fold between 2017 and 2020'), consumers no longer have to be holed away in an office or computer room to browse online sales – meaning purchase can happen at any given time.

Did a certain type of ad perform best? Use only the highest performers for a basis for your 2020 ads.
If you're not utilising Smart Bidding, what level were your CPCs at, and what impression share did this gain? You can use then use this as a benchmark during the sales period.

Using Smart Bidding during this period is highly recommended. We'll go into more detail about benefits of Smart Shopping later on, but in short, Google's algorithms are able to adapt bids on an auction by auction basis, using over 7 million signals that we are not able to manually optimise for. Your competitors will be making use of all this extra insight, so you should too!

What was your increase in spend?
Did you hit your KPIs and spend all your allocated budget? Consider increasing budgets this year to see where your top ceiling lies.
What was your budget split across channels?
Did any channels perform particularly poorly? Consider pulling back on these and funnelling budget back into your top revenue drivers.

Equally, did you leave any avenues unexplored? Could you add them into your media mix this year?
Set Up A Catch-All Dynamic Search Campaign
However much keyword research you do, there will always be gaps in your keyword-based campaigns. 15% of all searches made every day are brand new, never been seen before, and it would be impossible to predict all of these. Dynamic Search Campaigns can help you capture this traffic if it is still relevant to your business and landing pages.
DSA campaigns have been known to run away with themselves (and your budget), especially if you have a very large website with a lot of content (blogs, etc).
To avoid this, set up your DSA to only "target landing pages from your standard ad groups". This saves you valuable time in sifting through content and only sends traffic to pages already within your Google Ads account.
Set Up Smart Shopping Campaigns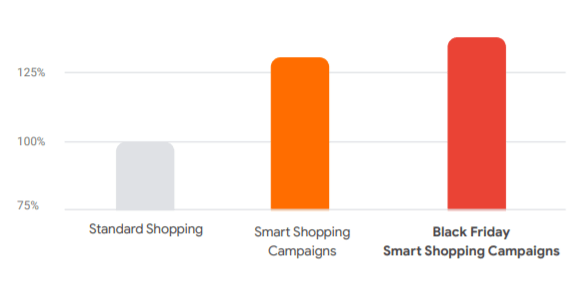 Smart Shopping campaigns have been around for a while now, and they're only continuing to get more and more powerful. Advertisers typically see more than a 30% increase in conversion value on average when using Smart Shopping campaigns, and during black Friday weekend 2019, Smart Shopping further increased this uplift. This success can be mirrored in your January Sales period.
Smart Shopping campaigns encompass all types of networks, combining classic Search-based shopping with Dynamic Remarketing, use of the Display Network, Youtube & Gmail.
These campaigns optimise to spend your budget in real time between each channel, meaning if conversion rate suddenly drops off on the Display Network, budget within the campaign will reallocate to the Search Network, or Youtube, or wherever is performing best. This saves both on wasted spend and man hours spent moving budgets between campaigns.

Avoid oversegmentation when setting up your Smart Shopping campaigns. The more data the algorithms have to work with, the better results they can produce, so try to avoid product groups with fewer than 20 conversions in a 15-day period. Try to only segment Smart Shopping campaigns into multiple campaigns where your business goals require it (i.e. product lines with different ROAS targets due to higher/lower profit margins).
Help Google Help You
As remarkable and advanced as Google's Smart Solutions are, there is only so much that they can learn from machine learning. Whilst Google recommends that Smart Solutions should be able to notice and adapt to changes in conversion rate and traffic volume, there are a few things you can do to help push things along.
Make use of Seasonality Adjustments. This is a feature where you can tell Google what you expect your conversion rate to increase to over certain time period. If you've already reviewed last year's stats, you should have an idea of what this will be. This adjustment is perfect for short events between 1-7 days, but no more than 14.
If you're using Smart Bidding, consider adjusting your targets during your sales period to maximise on traffic volume. Lowering your Target ROAS or increasing your Target CPA will allow your campaigns to bid more aggressively in auctions and drive more sales. Remember to increase your budget in line with these adjustments.
Set Up All Smart Campaigns 4 Weeks Early
All of Google's Smart Solutions undergo an initial learning period when first set live. Performance may not be great during this time – conversion volume and spend may be low as Google's algorithms adjust. It is important to not make any changes to your campaign during this time. If you're planning on utilising Google's Smart Solutions to boost your January sales performance, you need to ensure that all campaigns are out of the learning period and are performing at a good level already. This will give you time to evaluate performance and tweak as necessary before the sales season hits, hopefully making sure that you're maximising on your exposure and profit.
All Campaigns Are Only Ever As Good As Their Assets
Google's Smart Solutions are impressive, but they're not magic. They need great assets to push to begin with. Writing effective copy for your Search & Display campaigns and setting up all relevant ad extensions will get you on the path to success.
Set up promotion extensions in your Search & Shopping campaigns – for Shopping, you'll have to apply and send off a form to gain access to these features, so ensure you do this well before sales period.
Set up a Countdown for when your promotions end. This adds urgency to your ads and could improve conversion rate.
Add your offers into all your ad copy in either Headline 1 or Headline 2 – this will make sure that your offer will always be visible, as Headline 3 will sometimes not show.
Add your new ads into your account at least a week in advance of your promotional period, and give yourself time to correct any disapprovals.
January sales continue to be one of the biggest consumer events in the UK. These are only a few of the things that you can do to ensure your PPC campaigns see success during this highly competitive time. If you're unsure of where to begin, don't hesitate to get in touch for a free account audit, and see how Circus can help you.