Facebook Ads for Lead Generation: Case Study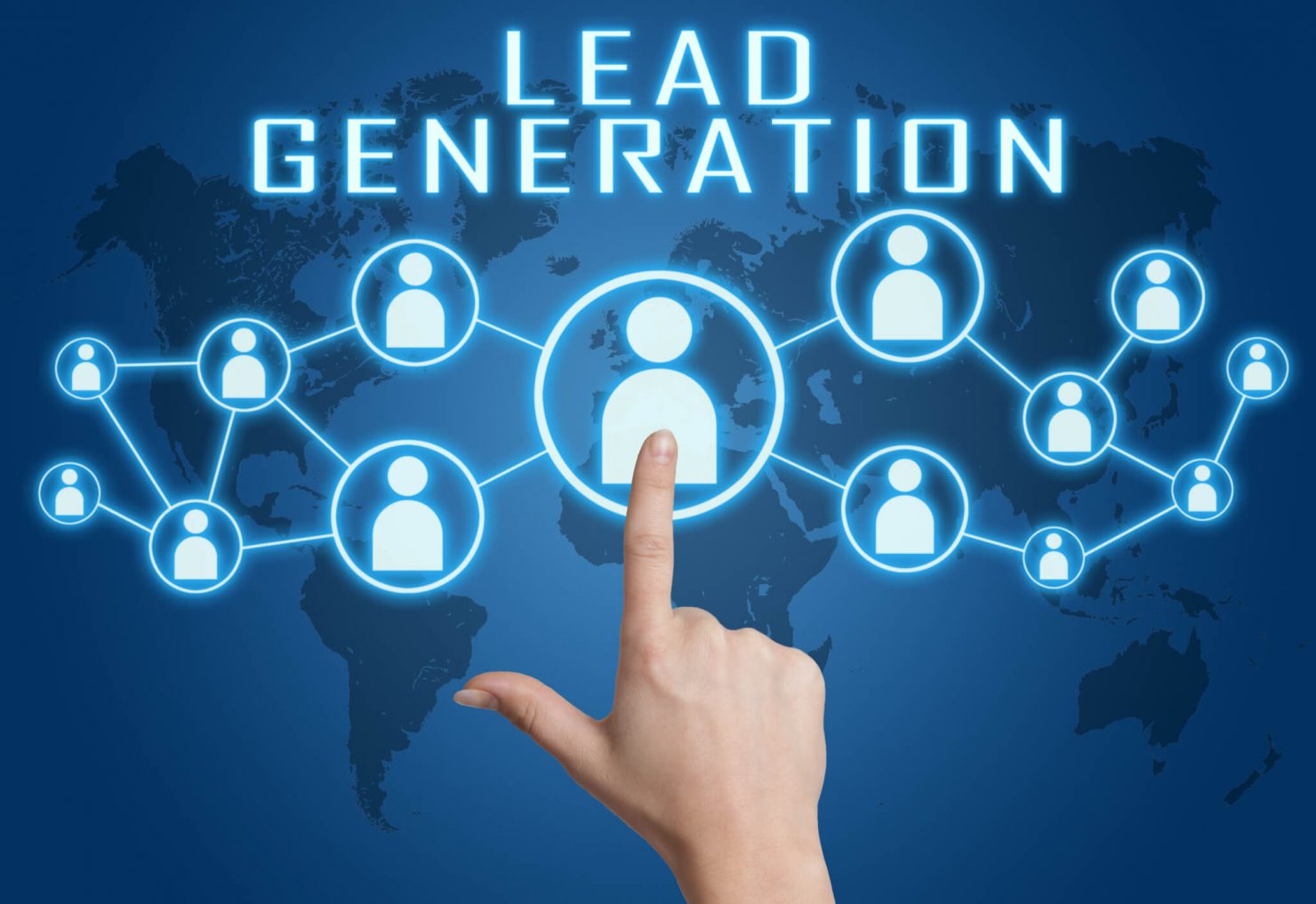 Did you know that every second there are an estimated 20,000 active users on Facebook? That's a whole online world of potential custom that you could be missing out on if you aren't using Facebook Ads.
Facebook Ads is a platform designed to provide results depending on your business objective. Reach, app installs, video views, conversions and catalogue sales are just a few of the options available for you.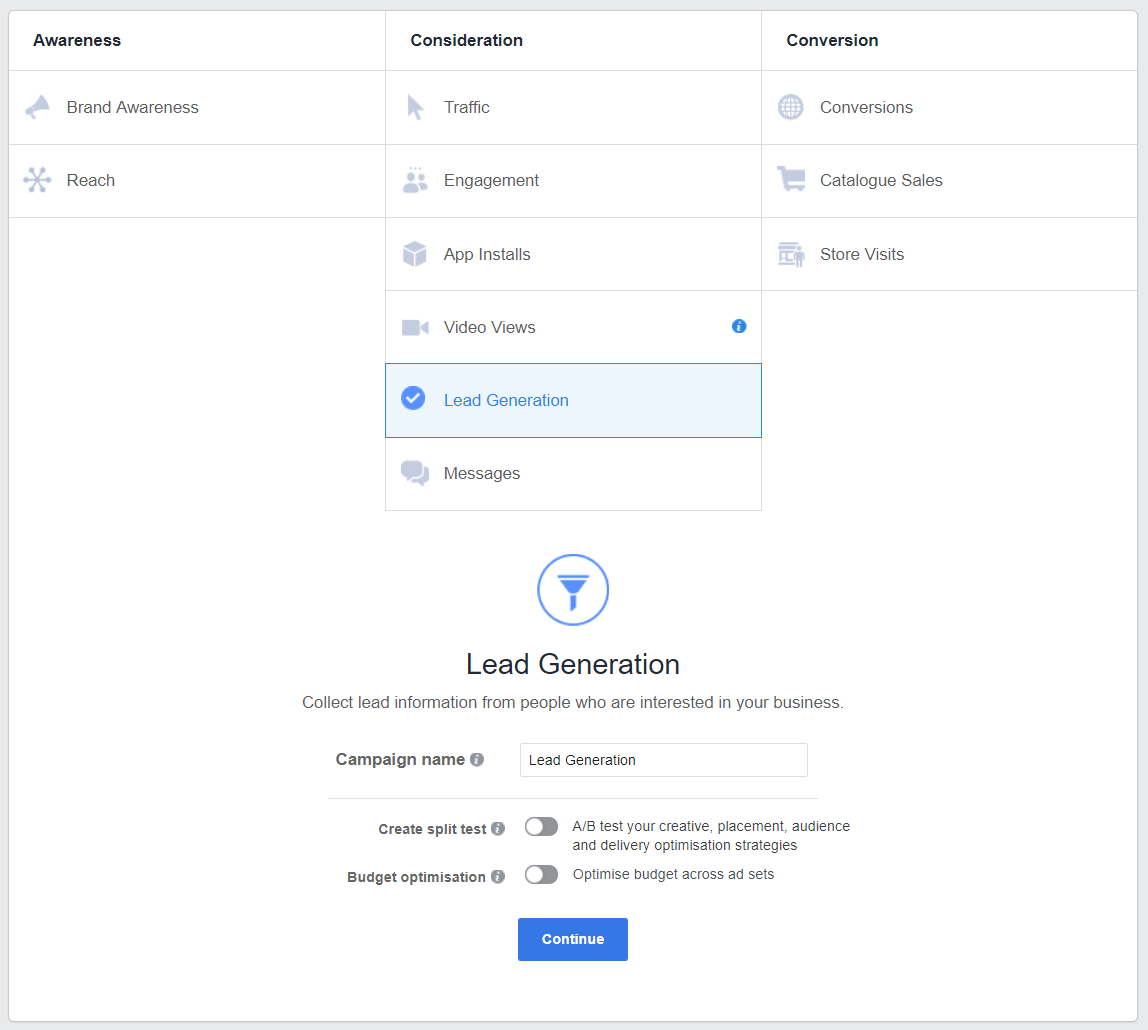 We conducted a test using Facebook Ads' 'Lead Generation' campaign type, which I will be sharing the results of in this blog.
The lead generation campaign allows you to collect lead information from people who are interested in your business. Rather than having a primary focus on driving users to convert on your website, they are encouraged to leave details (such as name, phone number, and email address) on the lead form on the ad itself.
Some of the benefits of these campaigns are:
Multiple targeting options mean you can show your ads to a more concentrated audience based on factors such as age and gender, location, interests and behaviour
Customised questions: get answers to self-written questions to obtain more specific information relevant to your business
Contact information that the user has already shared with Facebook is pre-populated, which also makes for much more efficient mobile lead generation
You can sync to your CRM to receive the lead form submissions immediately
Case Study:
The account used was a lead generation client looking to launch a short-term test campaign to increase their volume whilst keeping CPL under £5, so our main aim here was to drive as many leads as possible within given time constraints and locations.
When we initially set up the campaign we were required to create one ad set with a radius target around a location, expanding out to multiple other locations depending on performance.
With this in mind we used an ad set per location, targeting an audience that showed interest in topics relating to the business.
Week 1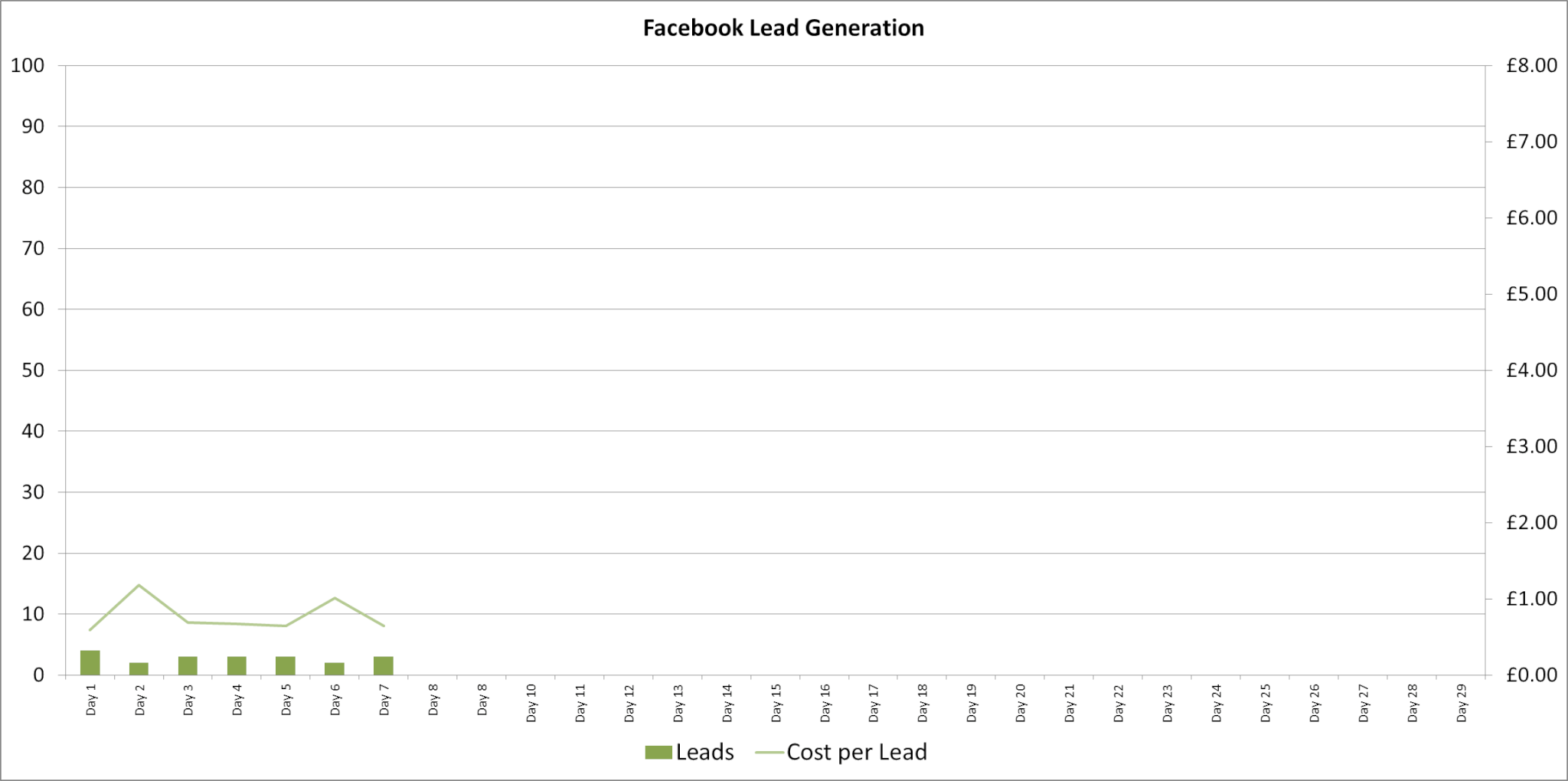 The client initially only wanted 1 location live, so we added a 10km radius around the location.
It was good start for CPL as an average of 3 leads a day were recorded at £0.73 CPL.
Week 2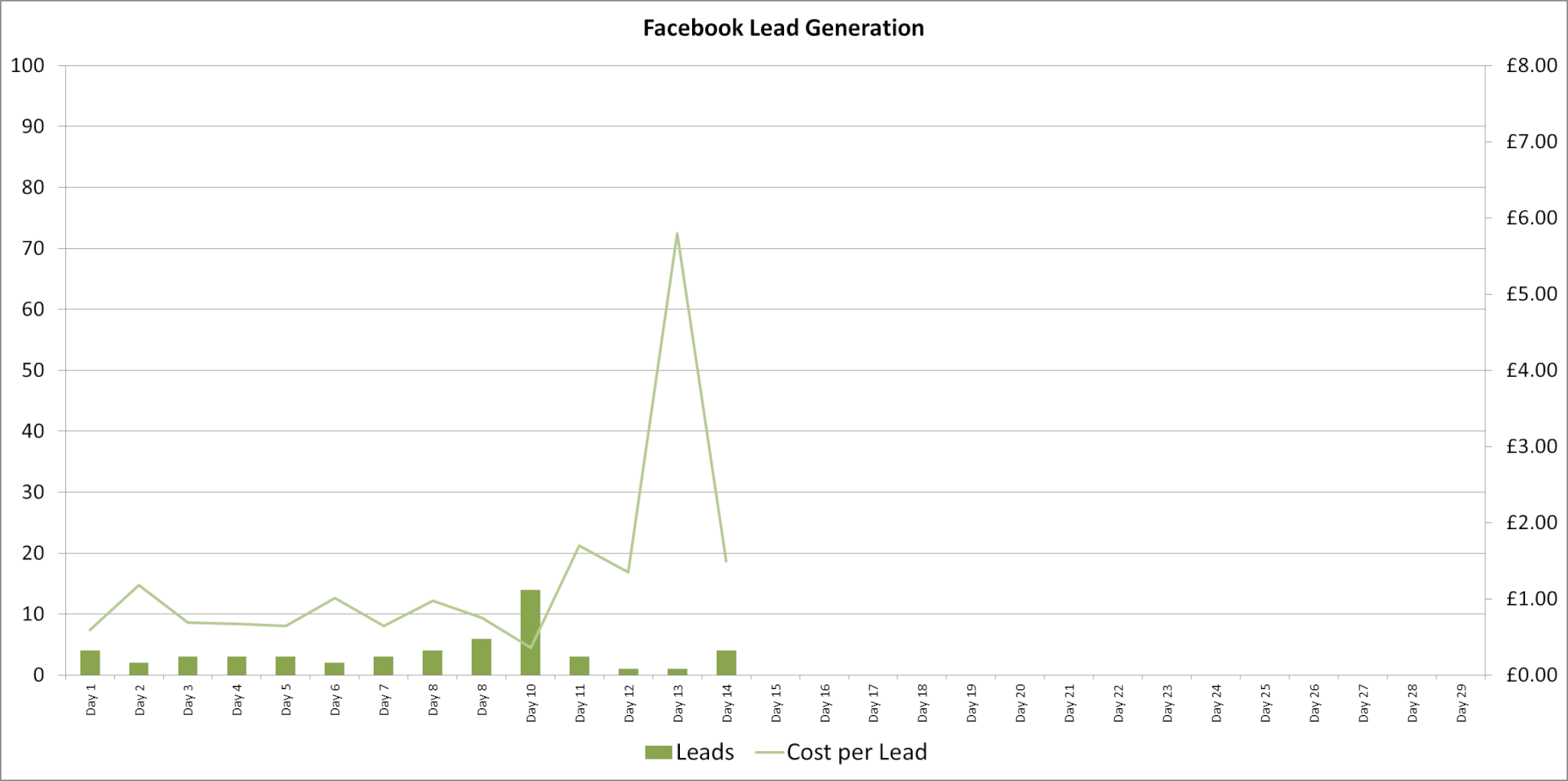 Given our time limitations we wanted to increase lead volume, so widened our location radius which saw a daily improvement from day 6 to 10.
Although there was a spike in CPL on day 13, our overall CPL was still under £1 for the week.
Week 3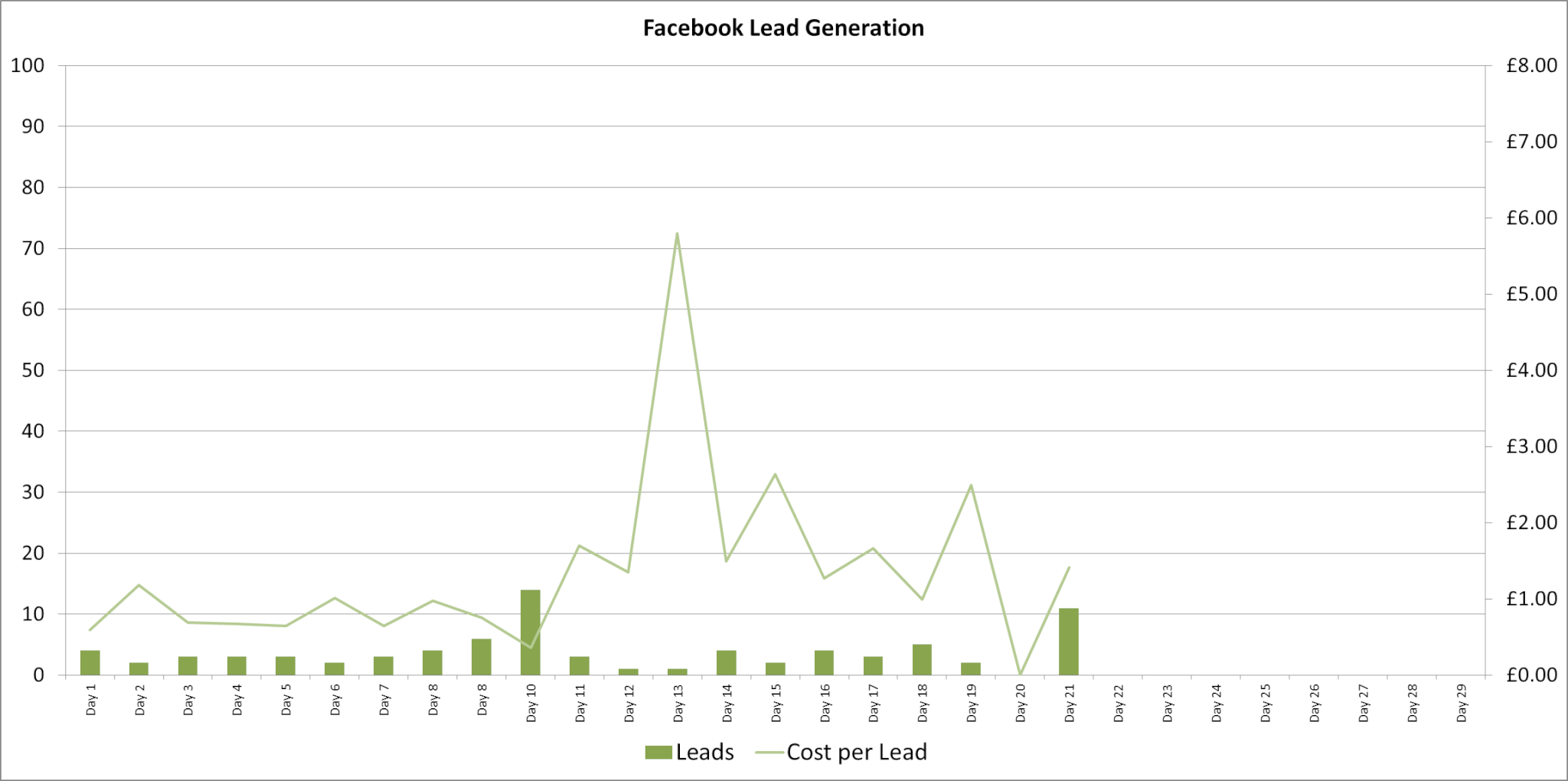 Following this positive performance we created new ad sets for different locations which were set live on day 21.
An instant improvement in lead volume was recorded as a result, with CPL under £2.
Week 4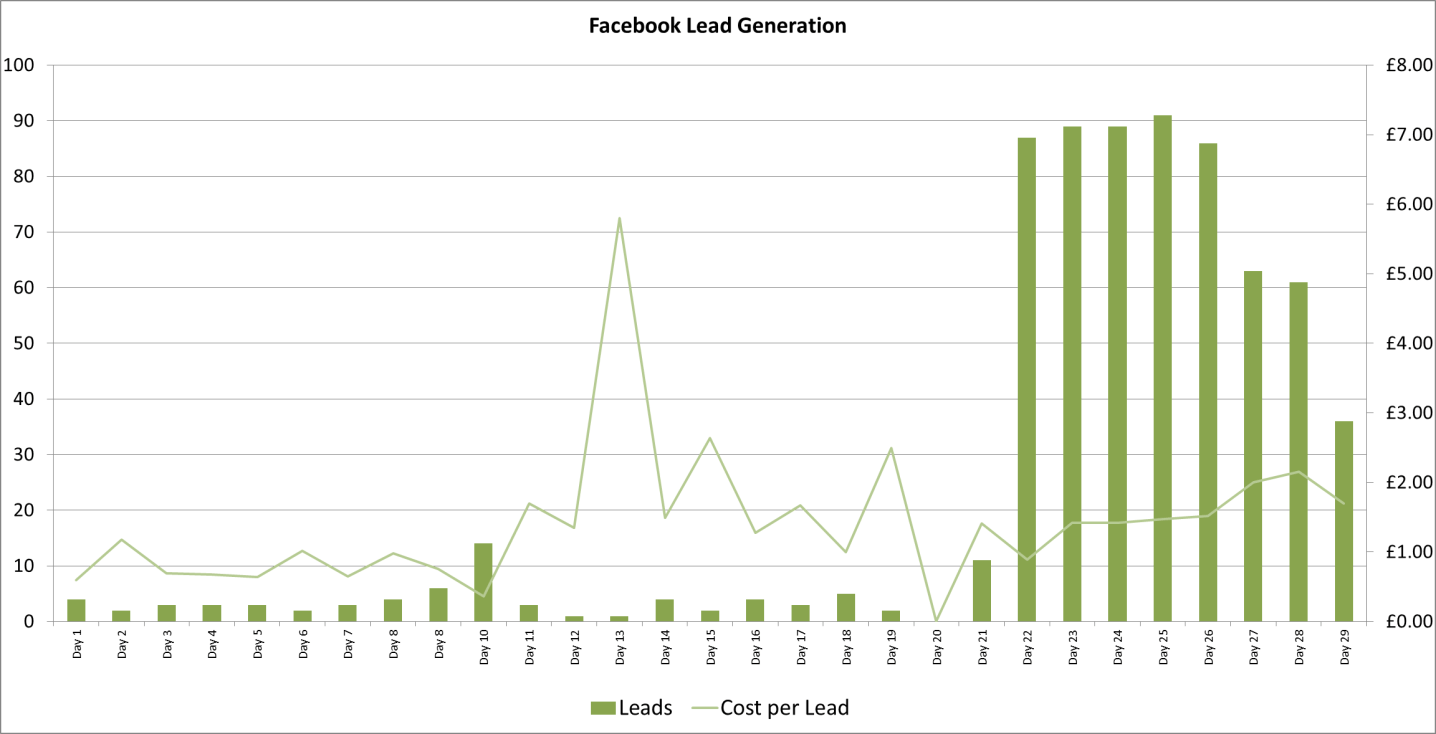 Our client reported that the lead quality was very good, so provided more locations to target.
From day 22 we had multiple ad sets live, targeting 20km around those locations. An instant uplift in lead volume occurred, averaging 75 leads a day.
Conclusion
| | | | |
| --- | --- | --- | --- |
| | Spend | Leads | CPL |
| Total | £1,001.49 | 682 | £1.47 |
For the month period that we were live, we recorded 682 leads at £1.47 CPL.
The targeting options available to us meant that we were able to succeed in providing good quality leads that met the client's criteria, at a CPL that was 71% under the target. Following this success we've relaunched the campaign as this has proved to be an efficient and inexpensive way of gaining leads.
When looking at ways to gain leads, the Facebook Ads platform should be a definite consideration. With over 1 billion active Facebook users every day, there's no question that this platform provides a wide and diverse reach to suit the majority of lead generation businesses.
If you're interested in setting up a Facebook Ads account, or simply want to discuss your current strategy, feel free to contact us for a no obligation conversation.
Written by Anna Wood, PPC Analyst at Circus PPC Agency