Circus PPC Hosts Event For Leeds Digital Festival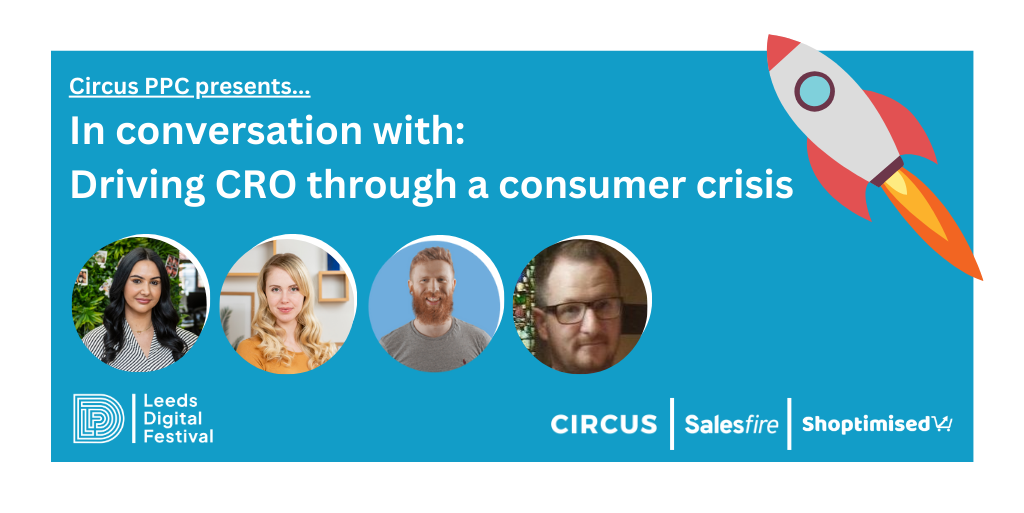 Circus PPC will be hosting their first ever panel event in partnership with Leeds Digital Festival this year. Read on for more about the event and how you can secure a place.
The current state of the economy and a dip in consumer spending means that many businesses are facing tougher times both online and offline, which, along with an increase in online competition over the past few years in particularly, advertisers are looking for more ways to maintain and improve CRO than ever before.
Join Circus PPC Agency at Leeds Digital Festival as they speak to their esteemed panel of industry experts, all experienced in various fields that are important to driving CRO, as they dive into how improving conversion rates can lead to significant improvements in revenue and ROI, ultimately making you and your client's businesses more profitable.
Our speakers for the event are:
Donya Broadhead, Circus PPC Agency
Our panel host and PPC expert who works across a range of retail and ecommerce accounts, and has recently helped drive budget efficiency for a number of clients.
Ausrine Vaiciute, PPC Analyst, Circus PPC Agency
Ausrine (Inny) is a PPC Analyst at Circus PPC Agency, working with ambitious brands to help them to drive growth through PPC.
Tim Mawson, Head of Partnerships, Salesfire
Tim is the Head of Partnerships at Salesfire, and currently hosts the Salesfire Catch Up and Salesfire Trends podcasts, speaking to industry professionals and sharing valuable insights in the world of ecommerce.
John Cave, Co-Founder and Director, Shoptimised
John co-founded Shoptimised, the UK's fastest growing and most powerful Product Feed Optimisation platform, in 2018, and now works with advertisers and brands to optimise their product feeds and drive CRO.
Register for free on Eventbrite here: https://www.eventbrite.co.uk/e/in-conversation-with-driving-cro-through-a-consumer-crisis-tickets-686480992127